Introduction
The Ur-Quan Masters (UQM) is a free, open-source remake of the excellent game 'Star Control 2'.
You can get the game from here:
The Ur-Quan Masters
There is also an HD remake available, and a 'Remix' of the HD remake which fixes some additional bugs (and is my personally recommended version):
The Ur-Quan Masters HD
The Ur-Quan Masters HD Remix
Why are my mods important?
The Ur-Quan Masters is based on the source code of the 3DO version of Star Control 2. However, while the 3DO version had several improvements over the original PC version, some of the dialogue that were present in the PC version is absent in the (voiced) 3DO version... and some of that dialogue is crucial to completing the game without a guide or random exploration. To fix this, I have re-recorded the dialogue of certain key aliens to reinstate what I considered to be the most important missing lines. The HD version also had some visual flaws, which I have fixed. Downloads are below, instructions are included:
Melnorme Voice Mod (v1.1) (for UQM and HD remakes)
I was unable to imitate the original Melnorme voice actor/effects, but I never considered the orignal to be particularly good. I re-recorded all of the Melnorme lines, but included some additional, important informative and flavour dialogue missing from the 3DO version and The Ur-Quan Masters.
Download either as a manual install (difficult initial install, but then easy to run) or as an addon file (easy initial install, needs a command line switch to run) below:
Melnorme Voice Mod - Addon File
Melnorme Voice Mod - Manual Install
Some youtube previews of the mod in action:

Mycon Voice Mod (v1.0) (for UQM only)
This contains key dialogue about the Mycon homeworld that is needed to complete the game. I managed to imitate the voice of the Mycon fairly well, so most of the dialogue is unchanged. Note the HD and HD Remix versions automatically already include this mod - you only need to get it for the original The Ur-Quan Masters!
Download either as a manual install (difficult initial install, but then easy to run) or as an addon file (easy initial install, needs a command line switch to run) below:
Mycon Voice Mod - Addon File
Mycon Voice Mod - Manual Install
HD Syreen Video Fix (v1.0) (for UQM HD remakes only)
The Syreen graphics in the HD version of UQM appear to be missing one of the Syreen's breasts (even though this is visible in the original version). It looks very odd, especially when animated. I have fixed this by manually drawing in the missing breast in all relevant animated files
Before Fix: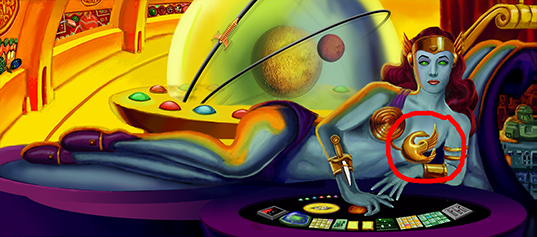 After Fix: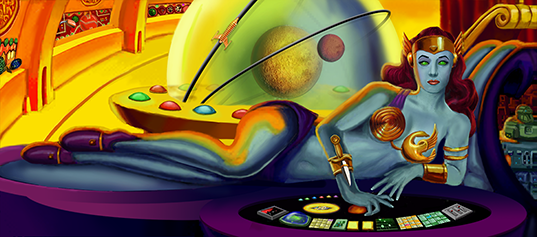 Download either as a manual install (difficult initial install, but then easy to run) or as an addon file (easy initial install, but should only be used at specific resolutions and needs a command line switch to run) below:
HD Syreen Video Fix (1280x960 only) - Addon File
HD Syreen Video Fix (640x480 only) - Addon File
HD Syreen Video Fix (Any resolution) - Manual Install